Alfresco WCMQS nedir?
Alfresco Web Quick Start, Alfresco Share içerik yönetimi ve işbirliği çerçevesi üzerine kurulmuş bir dizi web sitesi tasarım şablonu ve örnek mimaridir.
Quick Start ile geliştiriciler, sıfırdan başlamak zorunda kalmadan iş kullanıcıları için güçlü içerik yönetimi özellikleriyle özelleştirilmiş ve dinamik web uygulamalarını hızla oluşturabilir.
Standart geliştirme araçlarını kullanarak geliştiriciler, yeni ve yenilikçi web uygulamaları oluşturmak için Alfresco'nun kapsamlı içerik yönetimi özelliklerini hızla dağıtabilir. Alfresco Surf ile Spring çerçevesi kullanılarak geliştirilen Web Hızlı Başlangıç, geliştiricilerin Alfresco'yu işin taleplerini desteklemek için yeni özellikler eklemek için kolayca genişletmesine olanak tanır.
WCMQS'i bilmek neden iyidir?
WCMQS, bir web sitesi oluşturmak için güçlü bir bileşendir
Web sitenizi dilediğiniz gibi özelleştirebilirsiniz
JavaScript veya Java'da web komut dosyaları oluşturabilirsiniz
AngularJS, ExpressJS vb. Gibi herhangi bir JavaScript çerçevesini ve jquery gibi kitaplıkları ve ayrıca Bootstrap temeli vb. gibi duyarlı çerçeveleri kullanabilirsiniz.
WCMQS'i Nasıl Yüklersiniz?
Alfresco'da uygulamanıza WCMQS kurmanın iki yolu vardır:
1) Yükleyiciyi kullanıyorsanız, Web Hızlı Başlangıç ​​onay kutusunu işaretlemeniz gerekir.
2) WAR dosyasını kullanarak Alfresco'yu manuel olarak kuruyorsanız, yalnızca war WCMQS'sini Alfresco uygulamanıza eklemeniz gerekir.
WCMQS'nin Alfresco uygulamanıza doğru şekilde yüklenip yüklenmediğini kontrol etmek için bir işbirliği sitesi oluşturabilirsiniz: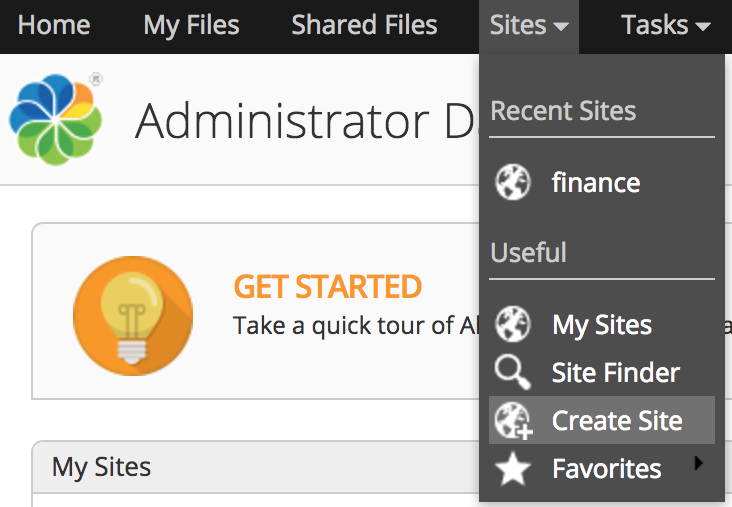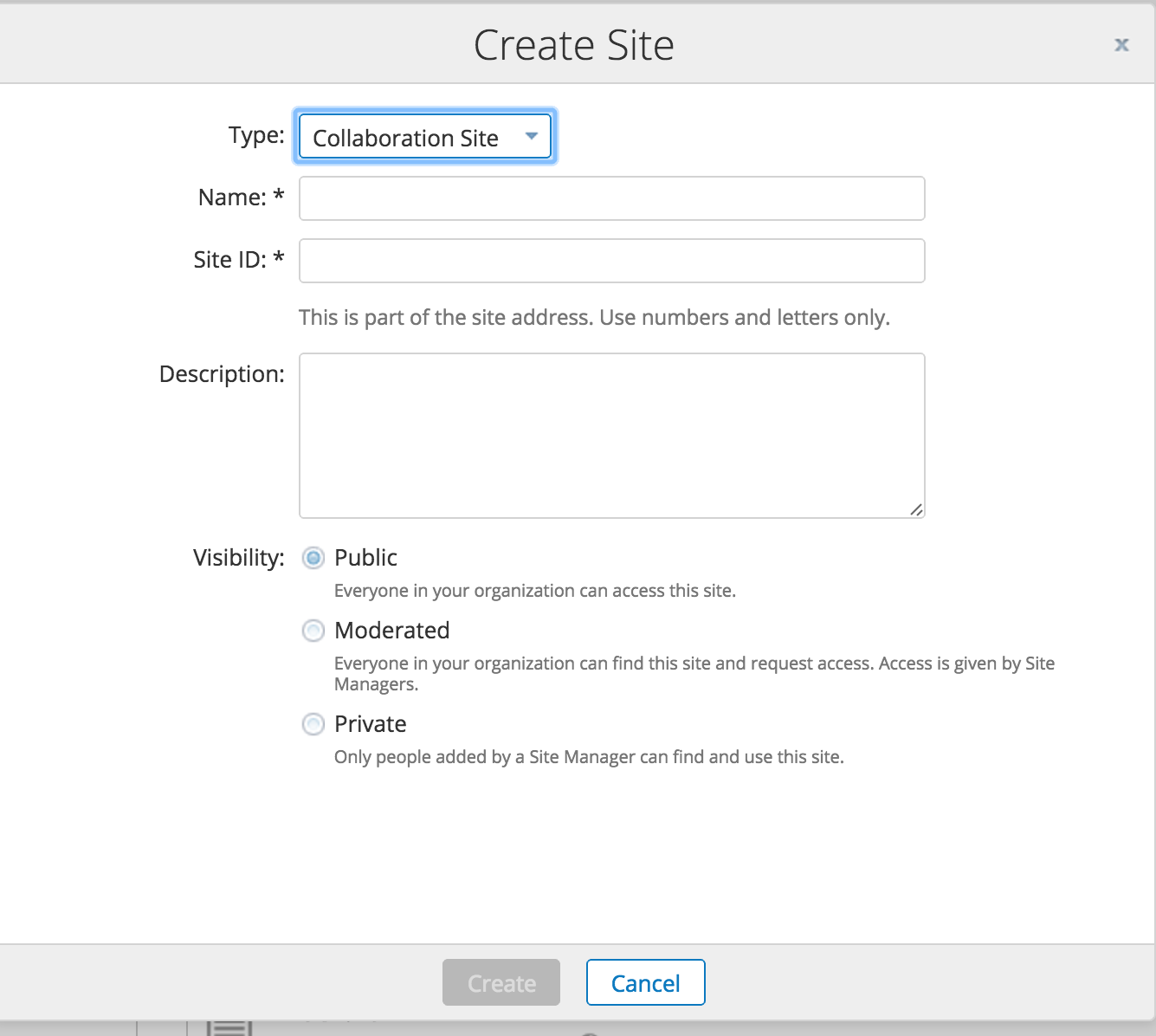 After you have created your collaboration site it is time to add the web quick start dashlet.
Below, the screen captures will explain how to add a dashlet on Alfresco.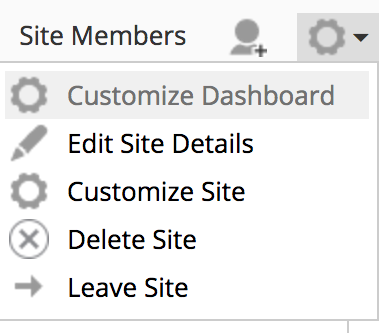 Choose "Add Dashlet"

Drag the "Web Quick Start" into one of the columns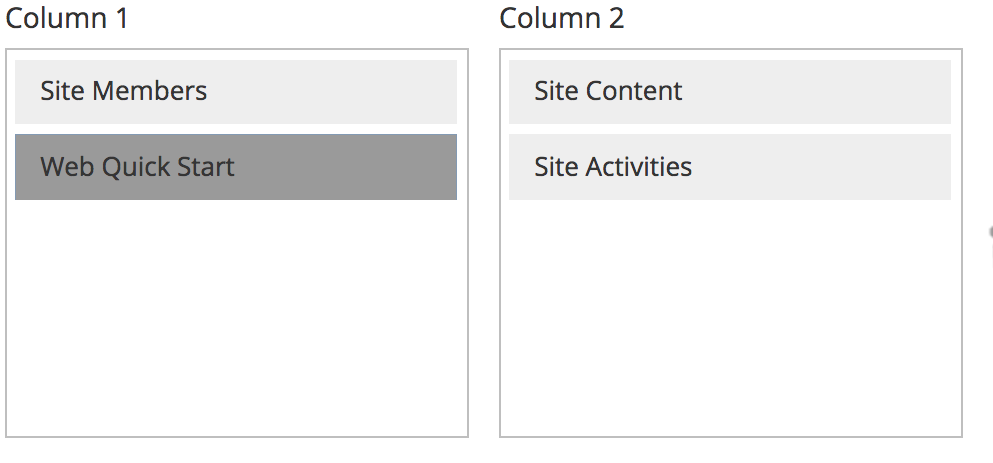 The added dashlet will grant you access to two prototype websites: 
Finance (single language)
Government (multilanguage)

In my example I select Finance.
After you select one of the two prototypes it will create an example website inside the document library.

Configuring WCMQS :
After the installation it is time to configure WCMQS.
By default, WCMQS create two folders: One for editorial and one for live content:
Editorial and Live folder must have two different host as properties configured. By default the Editorial has the host "localhost" while live is be default configured to "127.0.0.1". Both are configured on port 8080 with the context name "wcmqs"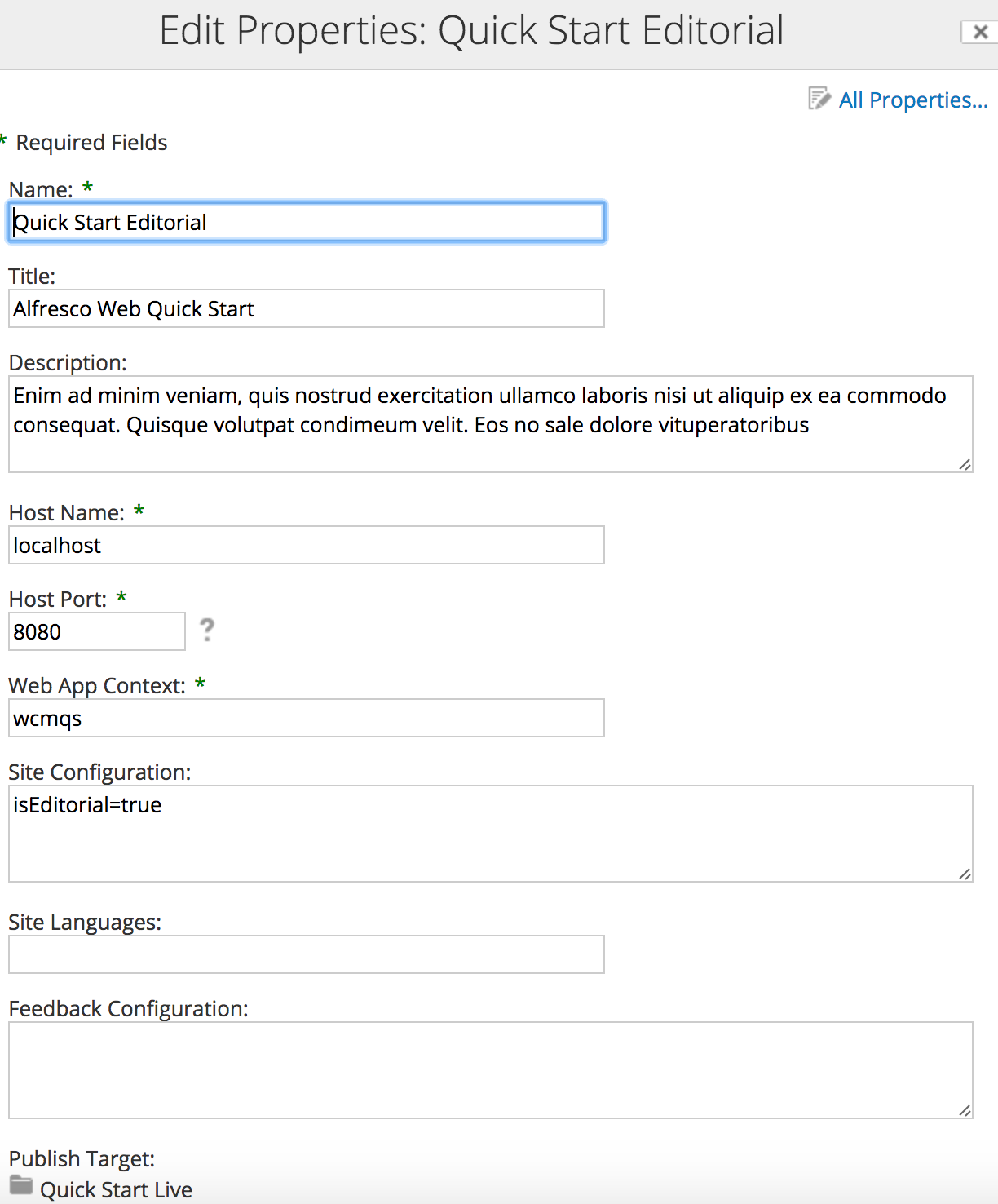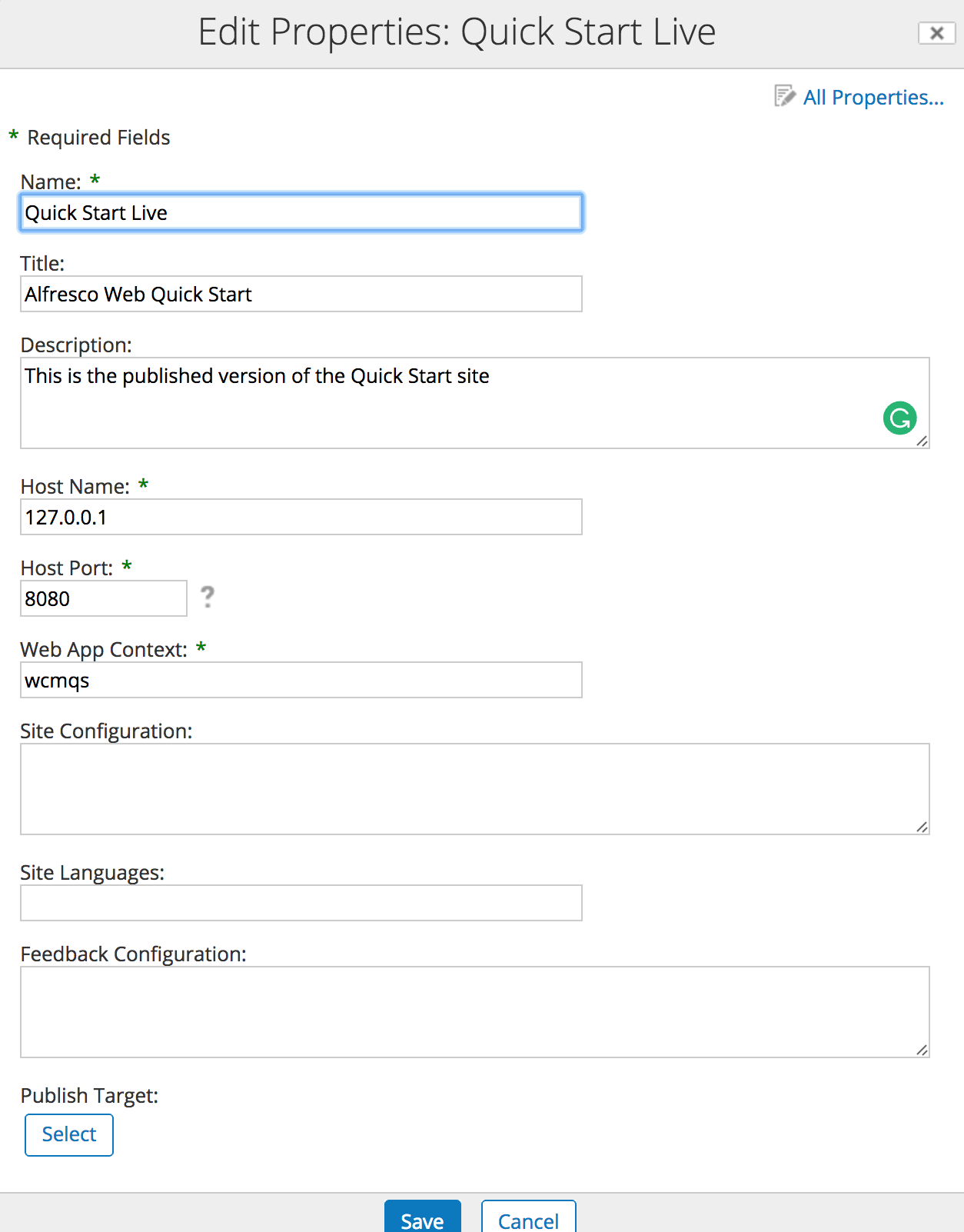 If you have a different port and you want a different name you need click the Editorial or Live and modify the properties.
In my example, the port is 8888 (because my alfresco run in port 8888) and my website will be called test.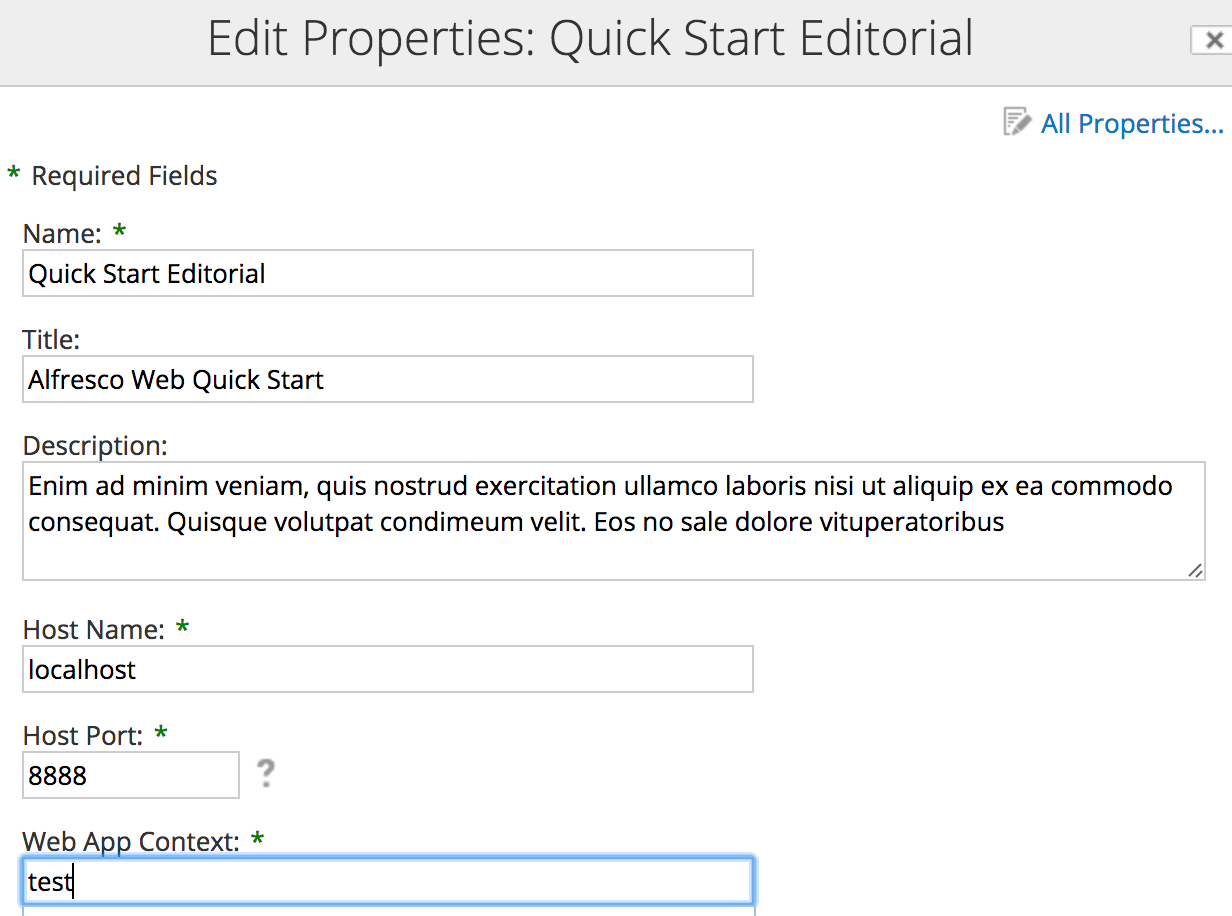 Same configuration for live (apart from the host name):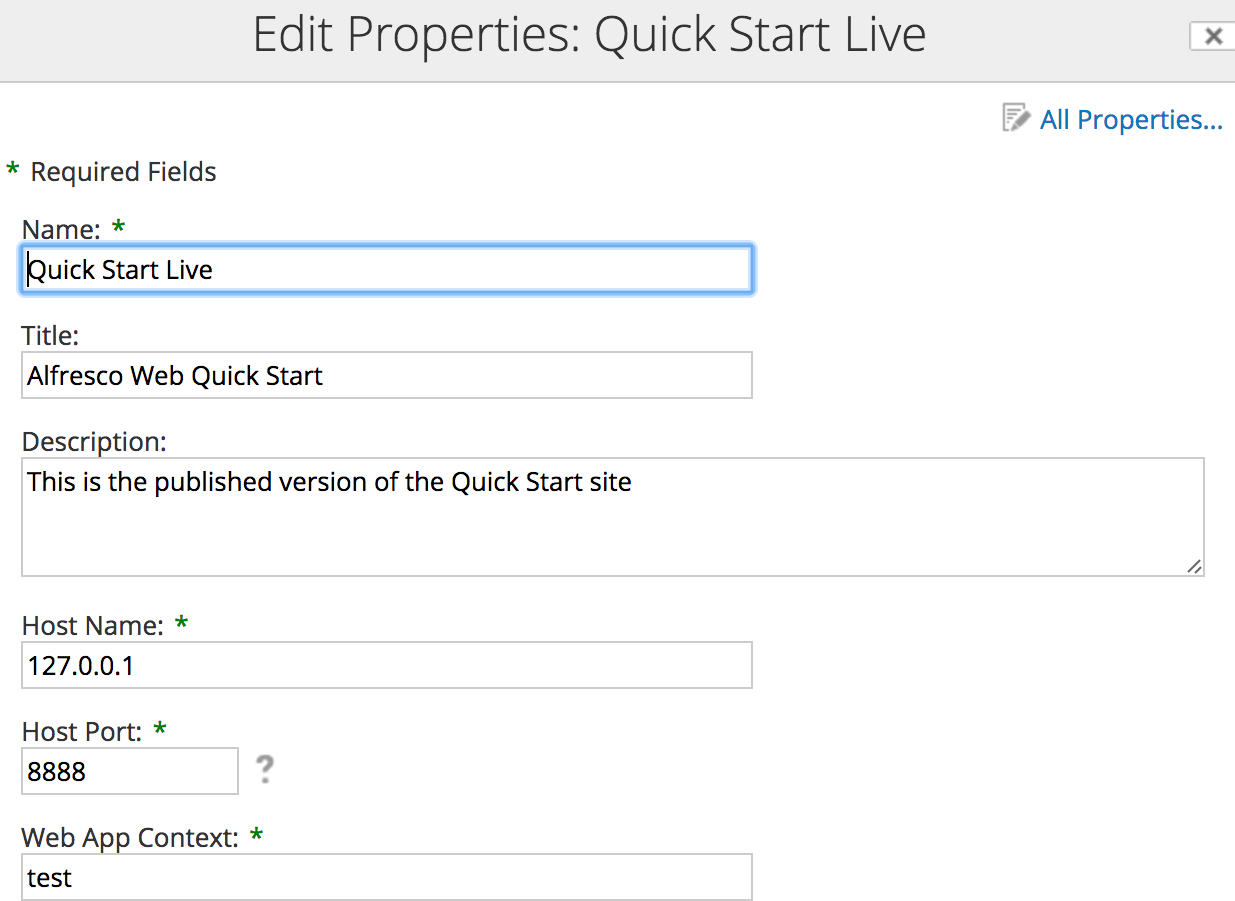 #Once you decided how the site is called you need go under tomcat/webapps/ copy the WCMQS.war and rename to the name of your site.war. Alfresco will create your new site. Restart tomcat and now is time to test your site going to your "host":"port"/"context" of the site in my case will be localhost:8888/test/

If you have done all correctly you should see the following site :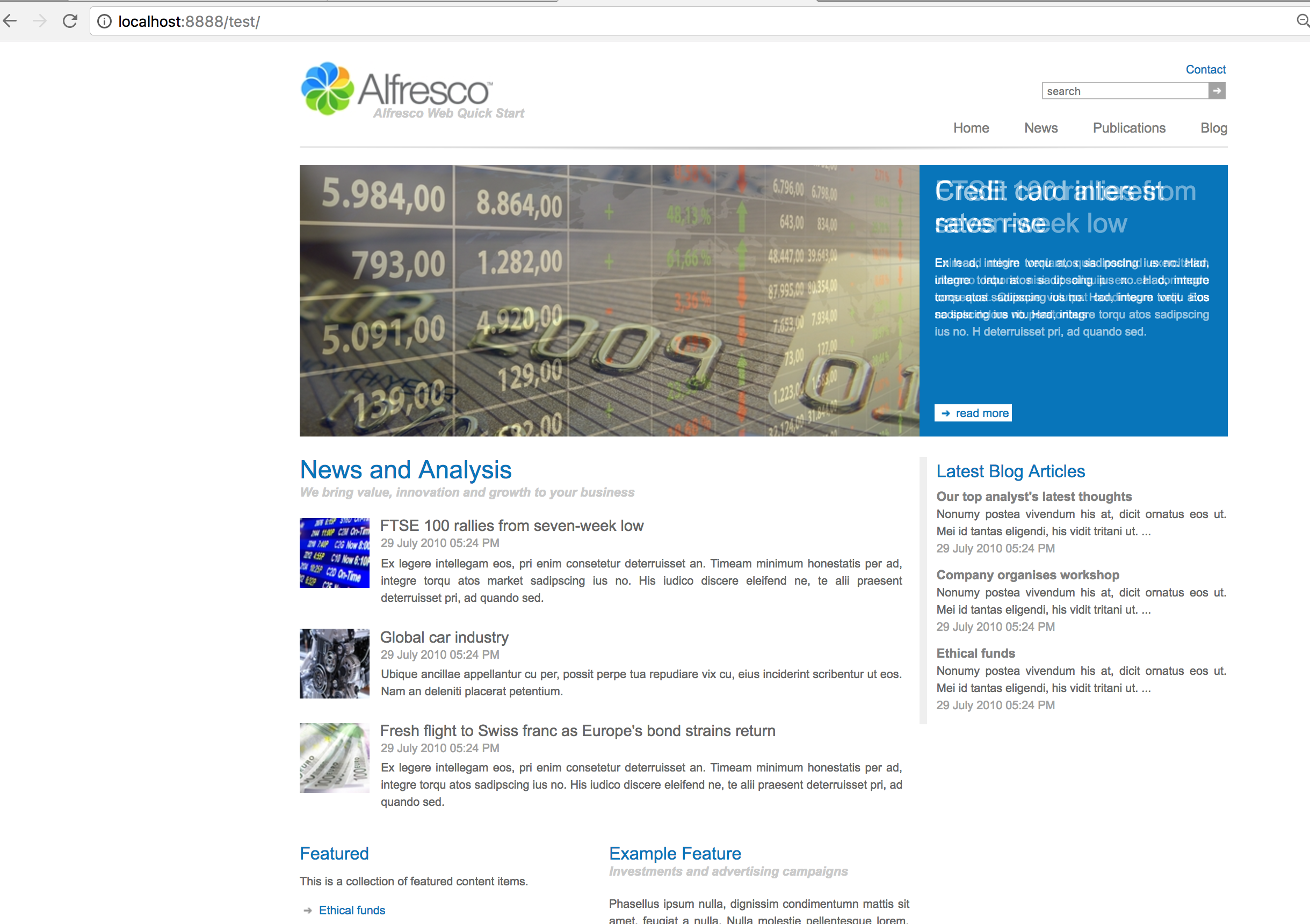 Kaynak:
https://hub.alfresco.com/t5/alfresco-premier-services-blog/wcmqs-part-i/ba-p/292618

https://hub.alfresco.com/t5/alfresco-premier-services-blog/wcmqs-part-ii/ba-p/292750